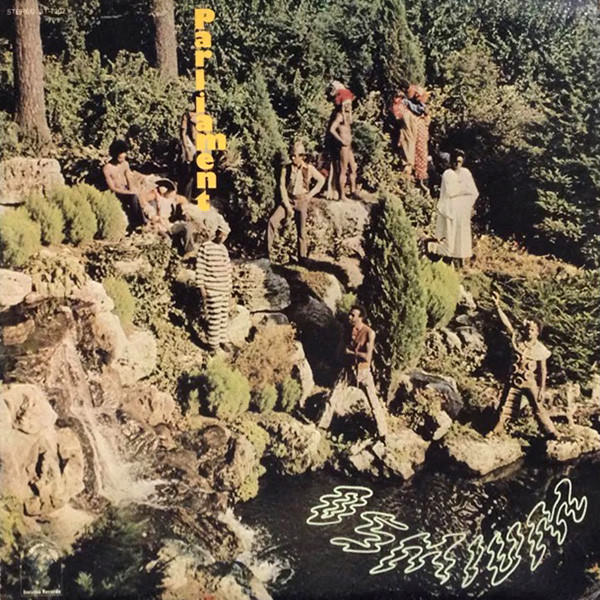 If the Funk is ahead of its time, does it make a sound?
THE SCENE: According to George Clinton, the five-man ex-doo-wop group Parliament performed polite music you could play for your mother, while their five-man backing band Funkadelic was the group that would scare your mother into cardiac arrest. The fact that all ten people were in the same band was simply a matter of convenience.
In 1970, even though Funkadelic was already signed to the Detroit-based Westbound label, Clinton signed Parliament to the Detroit-based Invictus label and delivered Osmium. Parliament had released several smoothed-out hit singles in the previous years, so the raw and roughneck Osmium had the effect of discovering that your seemingly normal parents were actually two-headed Martian warlords.
Although this album preceded their use of squiggly synths, alter egos and sci-fi concepts, Parliament still had loads of goofball energy and naïve eccentricity. Half the album is co-written by folk artist and label mate Ruth Copeland, and her straightforward melodicism and religious themes make a downright bizarre platform for the funk. "Oh Lord, Why Lord/Prayer" is a harpsichord and choir-led hymn based on Pachelbel "Canon" and is performed completely straight! No joking about Jesus this time around.
"Put a Little Love In Your Life" is a mini-progressive rock opera detailing the journey of a would-be star, with enough mood changes to rival a Broadway song. Slow organ riffs merge into spazzed-out guitar solos, voices drop in and out, tempos speed up at will, and yet it holds together.
Parliament gets its Nashville on with "Little Ole Country Boy", a hyped-up country-and-western song complete with pedal steel guitar solo, washboard percussion and lots of yodeling. Yes, yodeling. Parliament also finds a place to showcase the bagpipes, of all instruments, on the beautiful dirge "The Silent Boatman".
Peppered between these mid-tempo quasi-show tunes are lots of crazed funk songs. "Funky Woman" is an exceptionally tough call-and-response about personal hygiene that showcases guitarist Eddie Hazel's sizzling tone and Clinton's grizzled humor:
She hung them in the air
Funky woman
The air said this ain't fair
Funky woman
She hung them in the sun
Funky woman
The sun began to run
Funky woman
She threw them on the line
Funky woman
The line, it started to cryin'
Funky woman
She threw them in the yard
Funky woman
The yard, it cried, Oh Lord!

The rockabilly "My Automobile" is a cute re-enactment of the songs' own creation, with the band sitting around the studio harmonizing top-of–their-head lyrics, followed by the "real" version of the song. Osmium also contains an early version of Funkadelics' "I Call My Baby Pussycat", a naughty crunch rocker about, er, cats:
Now I'm a tom cat and you're the pussycat
And I'm just sittin' here, licking my paw
Now I'm the tom cat and you're my little old pussycat
Why don't you scratch me on my back with your claw?
…
I don't know, but I've been told
That dogs are man's best friend
Wild and warm is my baby's love
My kitten is where it's at
The album has a low-budget and fun country charm with a surprising amount of restraint, considering the source. Neither Parliament nor Funkadelic were ever this peculiar again.
THE FALLOUT: Even the band didn't think an album this eclectic would sell many copies, and they were right. It did OK in Detroit but that was it. Parliament lost their recording deal but they were picked up by Casablanca in 1974 and released Up For the Down Stroke, which began a long string of bagpipe-free and high-selling albums.
Osmium is available at Amazon and you can also listen to tracks here:
See you next Wednesday.
NEXT WEEK: Terence Trent D'Arby does his Brian Wilson impression and brings his career to a screeching halt.