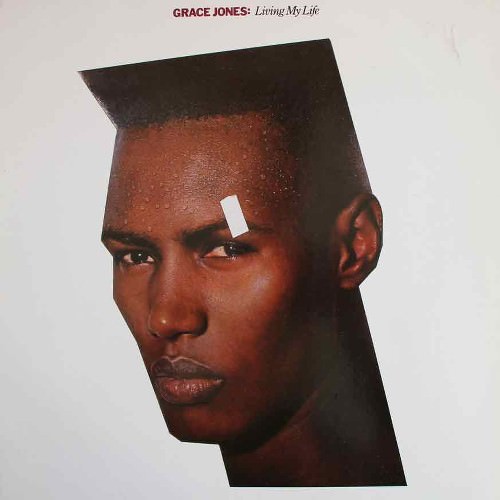 It's her prerogative, it's the way that she wants to live.
Purchase this album: Amazon

THE SCENE: In 1981 singer-songwriter-model-living canvas Grace Jones crossed over from danceclub diva to mainstream pop star with her Top 40 album Nightclubbing, while its single "Pull Up To The Bumper" hit number 5 on the R&B charts. Finally, it seemed, the world was ready to embrace another hard-edged, brightly colored puzzle besides the Rubik's Cube, and in 1982 she released her sixth album, the defensive Living My Life.
On the cover Jones scowls like a cagey boxer between rounds, and her songs are indeed riddled with her various sparring partners. Backed by a panoply of Caribbean, French, English and American musicians, her personal fights sound global, universal.
The gypsy Martian reggae of "My Jamaican Guy" lovingly points out the hidden brilliance of her slacker boyfriend (Take a toke from the smoke/Never standing by the door/Just stretching out pan de floor/That way him don't fall over), yet his infantilism becomes too much for her in the succulent and punchy "Nipple to the Bottle" (Colour and warmth came into your world/It makes me crazy/When you don't get what you want/You scream and you shout/You're still a baby).
In a sunny, rippling cover of Melvin Van Peebles "The Apple Stretching" Jones talks of present day New York with the brutal honesty that only comes from one who loves their town (Suburban refugees fleeing the cracked cisterns/Worm ridden fruit trees stream out Grand Central/Pleased to be breathing bagels and pollution).
Jones also, quite shockingly, shows her range as a singer in the unsettling, proto-Pet Shop Boys "Unlimited Capacity for Love", candidly revealing the woman behind the wacky outfits (And now I must add another to love in my life/It's one thing to say, to do is another/ If I'm capable of adapting without pressured expense/In a schizoid society in a classic moral sense).
My favorite song is the title track, which inexplicably was left off the album entirely and surfaced as a B-side years later. It's mock-classical opening slow-ly-winds-up-the-gears-then-BANG! It bounces like a steely, hyper, goofy bobblehead doll, carving out Jones's psychic toll of remaining true to herself:
Cuss me
Cuss me
You cuss me for living
You cuss me for living my life
You leave me
You leave me
You leave me for living
You leave me for living my life
Hard as I can
As long as I can
As much as I can
As black as I am
Bizarrely, this song that was barely released has its own high-gloss music video, complete with mock suicides, polka-dot mushroom dresses, and monkey masks:

Creating demand for a song that's nearly impossible to purchase is not the way to follow up your mainstream breakthrough.
THE FALLOUT: Living My Life dropped off the charts faster then President Bush's 2008 approval rating, ending Jones's tenure with her label and stopping her one album per year streak. After the '80s she didn't release another album for nineteen years.
Living My Life is available from Amazon, the "Living My Life" is also available from Amazon, and you can sample tracks here:

A knockout release that knocked out its own performer, Living My Life is the sound of dub narcotic defiance.
See you next Wednesday.
NEXT WEEK: Bernie Worrell shows how it's done.