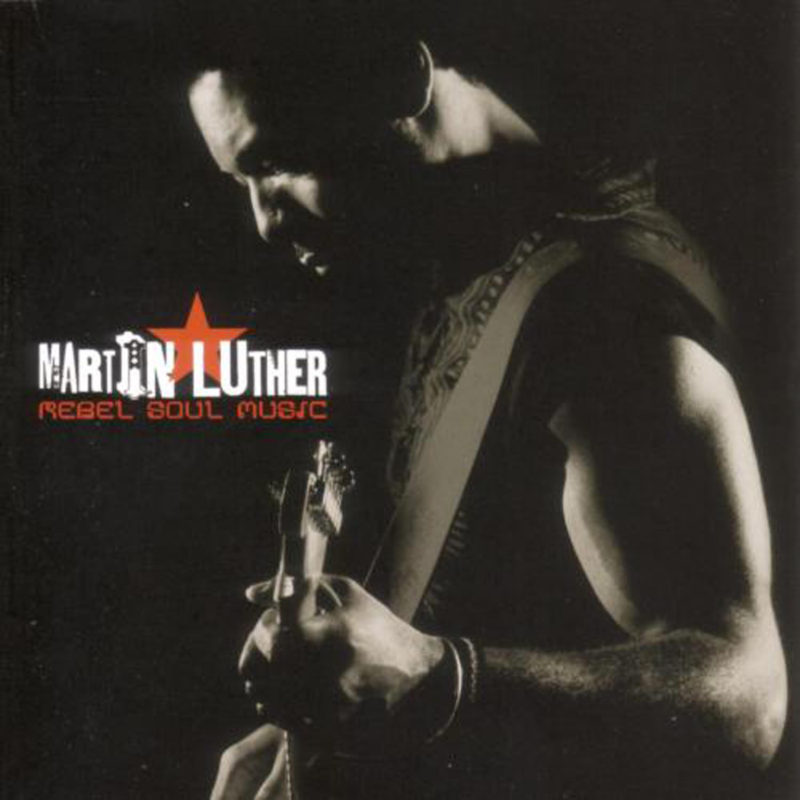 Preaches and verve. (Yes, I'm back. Thanks for hangin'.)
Purchase this album: Amazon
THE SCENE: When I was playing clubs with my band in San Francisco during the early '90s, I found the soundchecks fascinating due to the number of soundmen who did not think we played rock music simply because I was the guitarist. After we played a rock song or two the point became moot, but for those first twenty minutes of microphone placement the sound engineers would bark out "blues?" or "folk?" because that's the music where you see Black guys with guitars at the front of the stage. Blues or Folk.
And performing in the oh-so-diverse city of San Francisco meant that Black rock guitarists were accepted, but much in the way that one would accept a blind housepet: tolerated but not encouraged. Nevertheless this is the musical environment that produced rock guitarist and songwriter Martin Luther, who dropped his first album The Calling in 2000. After several tours as a sideman with The Roots he returned in 2004 with the polished Rebel Soul Music.
A smooth and furious collection of gospel-ish vocals, chill-out beats and metallic riffage, Rebel Soul Music is the lyrical and audio equivalent of a Luther Vandross/Living Colour mash-up. The glimmering and simmering "Daily Bread" twinkles with the comfort of a vintage leather coat, the kind one wears in the mosh pit of "Rebel Soul Music", the trip-wired call-to-arms exploding with militaristic guitars and gurgling synths.
Luther is transfixed upon maturation, be it his own in the humorously public "Growing Pains" or the cultural lack of it as displayed in the gutter arena rock of "Sleep Walking":
We know the game is to be sold but who will explain…
If you don't know, if you don't know
I'm tired of your drama your game done got old
Thinking that you up on ya game but you don't know
If you're ready to unshackle your brain let's go…
In television prison too scared to let go
Need to put down your remote and gain some control.
At his contradictory best he gives birth to several new musical genres within the same song. The wholesome handclaps and beautiful stacked harmonies of "Liquid Sunshine" happily relay a most ominous weather report. In the classical-meets-metal "The I.R.S." he separates a bittersweet breakup into "pastry cream sweet" and "unfiltered Camel cigarette bitter": ("I don't mean to be so cruel/But I'm so fucking over you").
THE FALLOUT:
Released on his own label, Rebel Soul Music garnered enough momentum to keep him touring the world for years, and the video for "Daily Bread" got some love from BET, but Martin Luther didn't break through to the level he deserved. He'll get another shot this spring in the Hollywood Beatles musical Across The Universe. His role? A rock guitarist.
Rebel Soul Music is available worldwide from Amazon, and you can sample tracks here:
An exploration of inner transitions and outsider awareness, Rebel Soul Music offers this simple request in its title song: "In a sea of black music the water is so deep / Won't you dive in?"
See you next Wednesday. Yes, next Wednesday. (I had a baby during the holidays, and when I woke up five months had passed. But I'm back!)
NEXT WEEK: Jay Hawkins learns how to screeeeeeeeeeeeeeeeeeeeeeeeeeeeam.