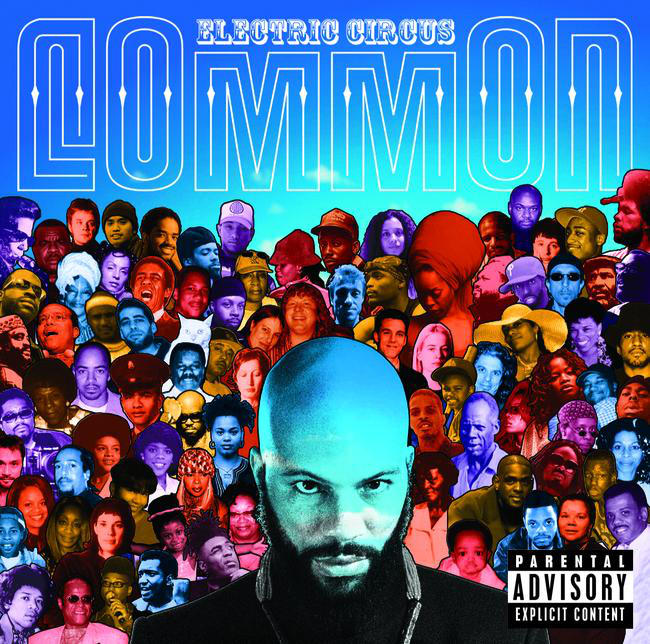 One day it'll all make sense.
Purchase this album: Amazon
THE SCENE:
In 2000 Chicago-based conscious rapper Common released his third album, the instant classic Like Water For Chocolate. His first Top Twenty and first gold record, Chocolate's lyrical depth and tight songs catapulted his ascendance into hip-hop's big leagues. But his next album was in a league of its own, the retro-rockin' Electric Circus.
Utilizing musicians and singers from rock, rap and R&B, he filled the album with gurgling organs, backwards noises and distorted guitar solos, the cumulative effect akin to hearing a rap album from 1967.
Adding to the surprises Common doesn't even show up until the second song. The Zap Mama singers help tilt the carnival feel of "Ferris Wheel" into an ad hoc intro theme, then Common drops the boom-bap in "Soul Power" over a gumbo of spooky voices and violins.
Lyrically he chooses to be more impressionistic than specific, which suits the creepy French spy chase of "New Wave" and the psychedelic gospel of "Electric Wire Hustler Flower":
Mercury and retrograde,
I'm trying to get niggas in the ghetto paid
While they watch pornos and Escalades,
away from floats and the dope in sex parades
Somebody screamin in my mind, I'm tryin to find if it's me
Or voices on the master, they design to be free
Same revolt, can't be found on TV, or radio, its livin in me
Hey lady, that smoke is bothering me
If I put it in your eye, ashes you would cry
All this rap talk is blowing my high
I just came to chill and build with my guy
I try to walk but I stumble off the humble path
This story of a pimp stick that became a staff
You got it, you gotta know where to aim the Mag
Art and opinions are made to clash

When he does focus his thoughts he brings forth the meditative and liquid "Between Me, You & Liberation". A nearly spoken word poem on death and release, it floats in a midnight pool of jazzy drums and squirmy tones.
Common updates ragtime in "I Am Music" fusing fantastic bleary horns with UFO landing sounds. He also remakes rock'n'roll in the Hendrix homage "Jimi Was A Rock Star" an eight-minute exorcism of piledriving drums and head-bashing fret shredding.
With the right amount of record-label promotion, precisely setting and resetting expectations, this was the album to make his career.
THE FALLOUT: Three weeks after Electric Circus' release, Common's record label dissolved. Without adequate promotion it never gained a footing into other music circles, which left it squarely in the hip-hop camp. Journalists and fans dismissed it as un-listenable trash and publicly blamed his then-girlfriend, Erykah Badu, as the catalyst for his hideous transformation. His next album, Be, was a return to acceptance and sales, and free of all Circus' progressiveness.
Electric Circus is available from Amazon and you can sample tracks here:
See you next year.
NEXT YEAR: More albums, more obscurities, more cultures, and more uppityness.
Yeah, I know "uppityness" isn't a word, but you know what I mean.