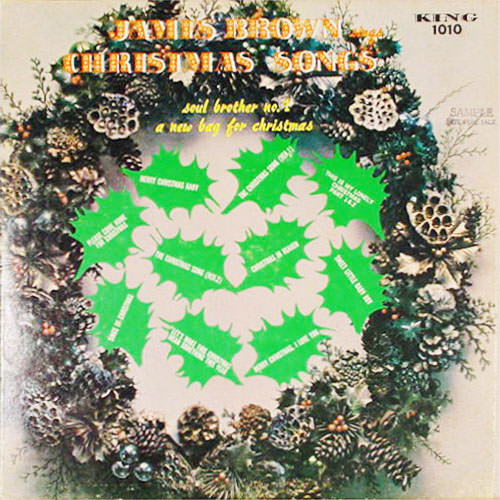 Funk is…a ham hock in your egg nog.
Purchase this album: Amazon
(The following is a repost, in honor of James Brown's passing on Christmas Day 2006.)
THE SCENE: In 1966 Christmas albums were strictly the domain of pop acts (think Nat "King" Cole) or smoothed-out rock acts (think The Beach Boys). James Brown was the first Black rock'n'roll or R&B artist to release an entire Christmas album, the aptly named Sings Christmas Songs.
One of five albums he released that year, Brown recorded a surprisingly lush assortment of standards with subtle dustings of breakbeats. Even though this coincided with his ascent into his heavy funk many of these tracks are waltzes. Go figure.
Brown tackles Mel Torme's "The Christmas Song" with skittering drums, warm horns and a vocal raspyness that humanizes some of the more trite lyrics. He also serves up a cover of Charles Brown's "Merry Christmas Baby", in which he oddly tries to emulate Charles Brown' buttery flow.
He reclaims his own voice in "Let's Make Christmas Mean Something This Year" where he stops singing and talks to you, the listener, about what he's thankful for this holiday season. It should be corny as hell but he pulls it off brilliantly.
Rich romantic violins feature prominently in "Please Come Home For Christmas" and "Christmas In Heaven" where Brown gets his croon on and gently pleads (OK, begs) for his baby.
His ode to Jesus, "Sweet Little Baby Boy", is a surprisingly orchestrated country & western affair, perfect for drinking hot toddies or slow line dancing.
All in all, the perfect holiday package for, well, no one in 1966.
THE FALLOUT: Stylistically out of character and indifferently packaged, Sings Christmas Songs went over as well as coal in a Christmas stocking. He fared exceeding better with his next Christmas album, 1968's unabashedly funky Soulful Christmas.
All of Sings Christmas Songs can be found on The Complete James Brown Christmas, available from Amazon, and you can sample tracks here:
A groundbreaker in holiday albums, Sings Christmas Songs opened the door for all musical acts to record Christmas-themed concept records. (So in some strange way, William Hung's Hung for the Holidays is James Brown's fault. Thanks, James.)
See you next Wednesday.
NEXT WEEK: Ornette Coleman goes to London to discover America.