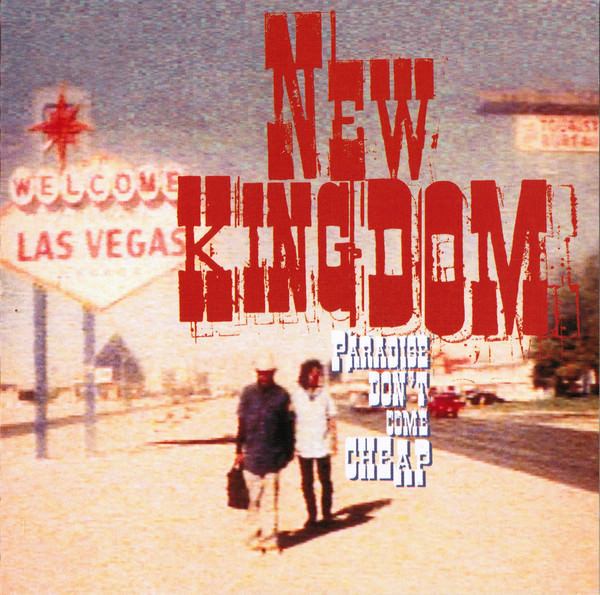 Way beyond funky, this one's downright grimy.
Purchase this album: Amazon
THE SCENE: In 1993 hip-hop duo New Kingdom released the lo-fi and poetic Heavy Load during the dawn of Death Row Records "G-Funk era". Although it was critically well received Heavy Load wasn't remotely gangsta and thus attracted little attention from the gangsta-buying public. Undaunted, partners Nosaj and SebStop spent three years crafting their followup, the hickory-smoked masterpiece Paradise Don't Come Cheap.
Reckless and scorching, it's an hour-long ride in the passenger seat of a ramshackle big rig on the hottest day of the year, and you're all out of lemonade. Musically thick and vast it blends live half-speed hiphop beats with all sorts of pedal steel guitars, organs and dust. That's right, dust. I don't how one records the sound of microscopic layers of sediment but it's on every track and it sounds fantastic.
Both Nosaj and SebStop don't rap as much as rasp over the tracks, as if Tom Waits and Ol' Dirty Bastard got drunk and planned a road trip, evidenced by the first song "Mexico or Bust":
Mexico is callen me and damn if it ain't all in me.
To pack my bags and grab a crate. Ain't nuthin better than an unplanned escape.
Hell ain't catchin up to me no way. I'm taken backroads riding side of the bus.
Wavin at runaways. Wanderlust has got us. Both lookin for a better day.

The guitars sound like lazy rattlesnakes uncoiling in the noonday sun as the drums lurch over a slowed down Texas-two step beat. Amazing.
The title track "Paradise Don't Come Cheap" is a theme song in search of a movie, with its 007-esque spy horns and its own referencing of cinema desires:
Rented one bedroom upstairs in the attic. Off the wall murphy style bed.
Old black and white read nuthin but static. Caliber she lay like a lady side my head.
Whisper in my ear justify my bad habits. Mexican Gold had me sinkin in the mattress.
Careful what you wish for cuz it just might happen. As strange as it looks..the stranger it seem. It feels as if I'd been stuck inside a movie screen.
Lyrically the songs are about changing ones' scenery, whether its surviving Armageddon ("Horse Latitudes"), traveling to outer space ("Journey To The Sun) or merely being "Suspended In Air", all delivered by a unique and gritty flow that sounds ageless and primordial. On "Terror Mad Visionary" they come across like outlaws transmitting secret directions over a cheap AM radio, while on "Unicorns Were Horses" they testify like preachers stuck in an overly hot revival tent.
Their unique voices and twisted poetry cuts through the swamp of dusky sonics, which is no easy feat. At any given time all the turntable scratches, metal power chords and echoed beats merge into one pulsating, throbbing mass of sound. The sound of escaping from Hell, or perhaps escaping to Hell.
THE FALLOUT: It was a hit with alternative rock critics, who get their records for free. MTV gave "Mexico or Bust" a few spins but Paradise Don't Come Cheap went mostly ignored by the public at large. In 1998 their label, Gee Street, was acquired by V2 and many artists were, um, dropped. But in 2005 New Kingdom finally announced plans to record their follow-up. Yay!
Paradise Don't Come Cheap is out of print worldwide except for Japan, where they've always had an appreciation for odd music. If you don't feel like paying import prices, used CD versions are easy to find, like right here. It makes great traveling music. You can also listen to samples here:
See you next Wednesday.
NEXT WEEK: TV On The Radio infiltrates indie rock by wielding the power of electronic doo-wop.