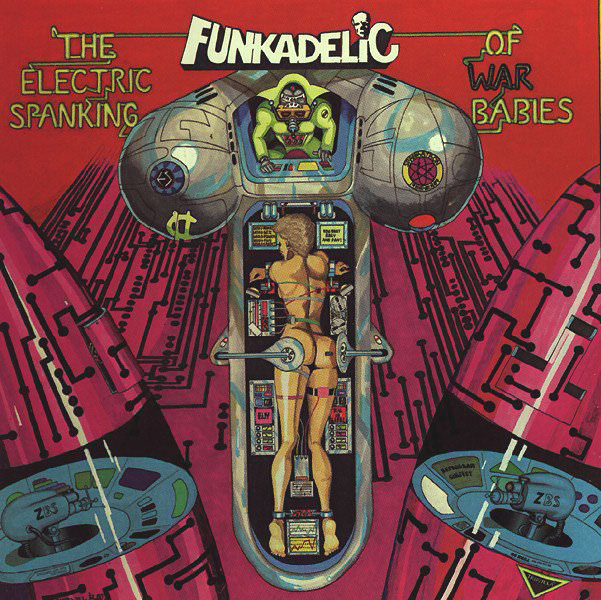 The funk stops here.
Purchase this album: Amazon
THE SCENE: While Parliament rode high in the charts singing about motherships and star children, Funkadelic dealt with more underground concepts like America eating its young, maggots and slop. At least they did before they moved to Warner Brothers Records, when they jettisoned their guitar-heavy Black-nationalistic raunch'n'roll for synth-happy radio-friendly tunes from George Clinton's Assembly-Line-O'-Funk.
Their turning point came in 1981 when the band realized Warner Brothers no longer had any interest in them, so they recorded an album solely to please their die-hard fans, the ultra-wacky The Electric Spanking of War Babies.
A shiny but spiny dance treat with a surprising world music edge, War Babies brought back lovely layers of nasty fuzztones and angry coded politics. The title track refers to the media's eager participation in promoting our governments' pro-war propaganda machine. A weighty topic for a weighty song, it bounces from a sprightly march to a raging metal singalong.
Along the way Funkadelic performs their take on reggae (the goofy "Shockwaves") and African polyrhythms (the all-drum tour de force "Brettino's Bounce"), while adding a major dose of giggles to the major league curse-off "Icka Prick":
…If you think that's nasty
Follow me to the men's room
Watch me write on the wall
Graffilthy!…
(This excerpt is the only clean part of "Icka Prick". I was going to add more lyrics but the printed page misses how gleefully filthy the song is in context).
"Hmm" said the label. "That's CLEARLY not single material."
THE FALLOUT: Warner Brothers rejected the album cover, eventually printing it with a censored flap. Warner Brothers also rejected the length, refusing to release it as a double album. They dumped it in the marketplace, pressing only 90,000 copies even though the previous album, Uncle Jam Wants You, moved half a million units.
The only P-Funk product they did like was the soon-to-be-released debut album from Roger Troutman, who had recorded it for George Clinton's label Uncle Jam Records. Warner Brothers did the unthinkable and secretly purchased the master tapes from Roger, releasing The Many Facets of Roger in 1981. Clinton promptly sued Warner, rightly claiming that he was the original owner of the tapes since he'd paid for the entire recording.
The courts agreed and George Clinton was awarded a chunk of cash, all the master tapes from the four albums Funkadelic recorded for Warner Brothers and the immediate termination of Funkadelic's contract. Although this made them free agents the P-Funk army imploded under label stress and financial woes, and neither Funkadelic nor Parliament released another album again.
Well, not under those names anyway. The very next year George Clinton released his first solo album which was chock full of P-Funk alumni and featured a song Warner Brothers deemed unfit to include on War Babies: "Atomic Dog".
Wow, what visionaries.
The Electric Spanking of War Babies is available from Amazon and you can sample tracks here:
A kiss to their fans and a kiss-off to their label, The Electric Spanking of War Babies is the best P-Funk album you've never heard.
NEXT WEEK: The first birthday of Uppity Music. Who's bringing the cake?