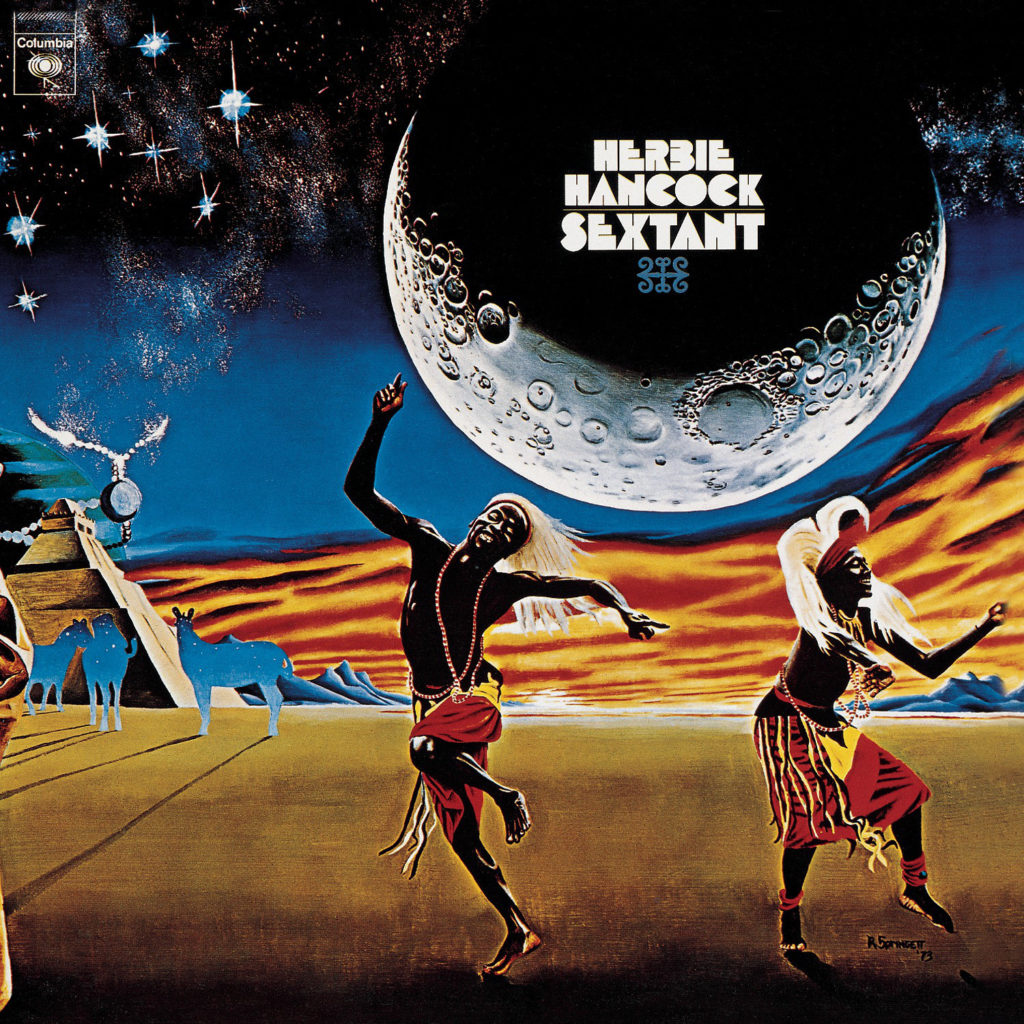 Jazz can swing, and sing and sting, but what happens when jazz goes ping?
Purchase this album: Amazon
THE SCENE: By 1973 keyboardist Herbie Hancock had recorded ten albums with Miles Davis, including the historic free-jazz sessions of Bitches Brew. That recording must have of woken up his inner freak-child because his own music started to steadily mutate away from traditional song structures toward dense aural sculptures, light on hooks but ultra-heavy on grooves and atmosphere. Hancock's future of the funk also used a literal ton of bleeding-edge synthesizers, mostly tweaked to produce unearthly bleeps, blops and, er, pings.
After recording three albums of challenging and poorly selling releases for Warner Brothers, Hancock and his band Mwandishi moved to Columbia Records and unleashed Sextant, a fresh blend of African polyrhythms, melodic brass and layer after layer of tripped-out keyboard sounds.
"Rain Dance" begins with, well, imagine the sound of water slowly drip, drip, dripping onto the metal floor of an empty submarine. This submarine then suddenly drops 20,000 leagues beneath the sea of shrieking horn stabs, switches on the acoustic bass propulsion jets and cruises through the waters of electronic jellyfish and percussive sea critters.
The journey continues on land with "Hidden Shadows", an arid trek through a rocky terrain populated with dive-bombing synthetic mosquitoes and bubbling percussion volcanoes that erupt drum geysers without warning. The rhythm section gallops quickly as if they are being chased by unknown assailants. Keyboard smears and horn solos hang in the air like angry buzzards circling its prey.
"Hornets" takes you deep inside the rainforest of wild, untamed instrumentation. It's a twenty minute battle for jungle supremacy as every musician fights for control of the song, trying to ride the humid wave of its primacy while avoiding being sucked into the undertow. The horns and drums maintain a valiant catfight but Hancock's wall of synths eventually outflanks all comers with a continual venom of exotic textures, both oppressive and effervescent.
Nowadays we'd call this music electronica or ambient, but in 1973 it was called "an unlistenable mound of dung that's best ignored".
THE FALLOUT: Sextant didn't sell and the resulting tour was not well attended so Mwandishi called it day. Hancock focused his next musical project on merging jazz with funk, which was a novel idea in 1974. That album, Headhunters, became the largest selling jazz album of all-time. How's that for a career rebound?
Sextant is currently in print from Sony and available from your better CD retailers, like this one. It's the perfect headphone music for that odd trip to the aquarium. You can also listen to tracks here:
See you next Wednesday.
NEXT WEEK: In the streak-free world of major label hip-hop, New Kingdom brings beats to the grime.