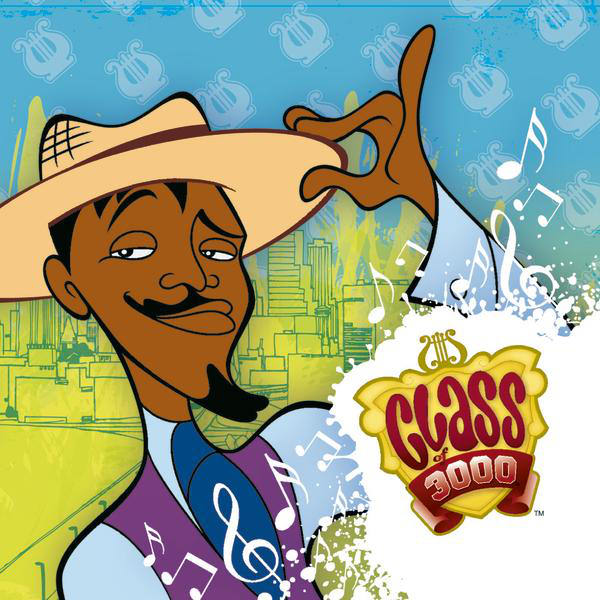 The antidote to Barney the Dinosaur.
Purchase this album: Amazon
THE SCENE: After the triumphant success of OutKast's Speakerboxxx/The Love Below Hollywood rolled out the red carpet to André 3000, giving him the chance to appear in a string of extremely mediocre sequels and remakes (Four Brothers, Be Cool, Charlotte's Web, yawn). But on the Cartoon Network he scored a bullseye as the lead actor, executive producer, and music director of the Emmy-winning Class of 3000. André created an original song for each episode, all of which are collected on the groovy soundtrack Music Volume One.
On the show André portrays Sunny Bridges, a world-famous but emotionally unfulfilled hip-hop star who returns to his Atlanta high school as a music teacher, sharing his love of music and positivity with a gaggle of gifted young musicians. These students share the mic with André throughout the album, like a Greek chorus of Flavor Flavs injecting mirth into the messages.
In his quest to create the hippest children's album of time, André invokes the same blueprint he used on The Love Below. There's the still-surprising effect of his multi-tracked singing voice (in the torchy ballad "Life Without Music), homages to Prince (in the razor sharp funk of "Throwdown") and a straight-ahead jazz instrumental snuck in at the back (in the swingin' "My Mentor)."
Class of 3000 weaves in many subtle yet straightforward messages championing music appreciation. It exposed my kids to New Orleans second line ("Fight the Blob") and Asian melodies ("UFO Ninja"), while they picked up notes on music theory ("Hold the groove tight/Hypnotize 'em so you can take 'em where you wanna take 'em" says the theme song ) and the music industry (witness the devilishly clever James-Brown-meets-Procol-Harum vibe of "We Want Your Soul").
As large as the kids' music industry is (I'm talking to you, Hannah Montana), a soundtrack from a hit show should be a hit album, right?
THE FALLOUT: Oh, if it were that simple. Since the album, the show, and the network were all owned by different companies, Class of 3000: Music Volume One had no one entity tasked with its promotion, so there wasn't any promotion. I never even saw a commercial for it on Cartoon Network itself, and I watch that channel a lot. It also wasn't serviced to radio, so millions of OutKast fans never knew it existed, charting a measly 23 on Billboard's Kid Audio Chart before vanishing.
Class of 3000: Music Volume One is available from Amazon and you can sample tracks here:
Light enough for kids yet dense enough for adults, Class of 3000: Music Volume One is one of the few albums you can enjoy with the entire family. Especially if your family is a little young for Stankonia.
See you next Wednesday.
NEXT WEEK: Black death comes to Living Colour.