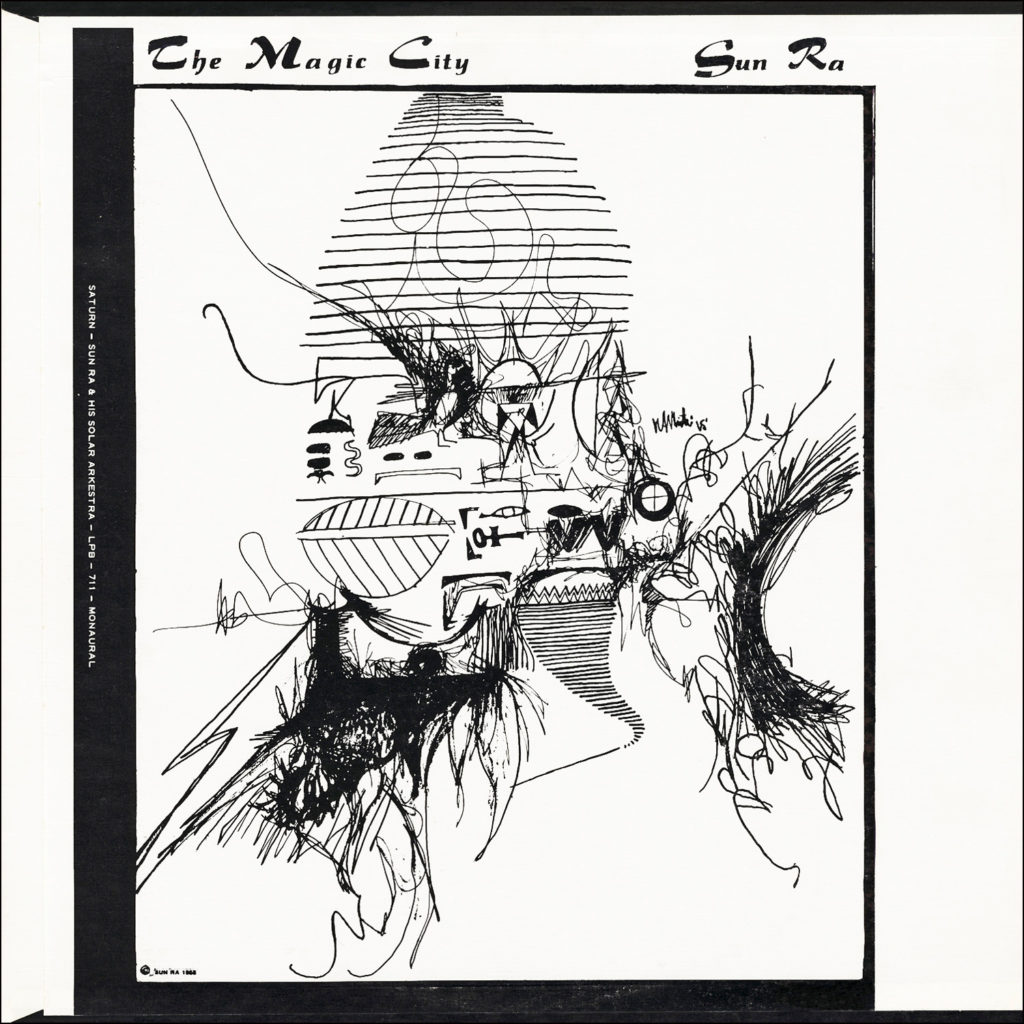 A nice place to visit on your way to Saturn.
Purchase this album: Amazon
THE SCENE: Having recorded over one hundred albums in a forty year span, many of them self-released only at his concerts, Sun Ra's entire canon defines obscure. As a turban-and-robe-wearing, Egyptology-loving outer space enthusiast, his oddball status within jazz circles kept many music fans from taking him or his music seriously. Claiming a birthplace of Saturn, he nevertheless drew attached to his adopted hometown of Birmingham, Alabama and in 1965 he recorded an homage to it entitled The Magic City.
Ra and his band the Arkestra were highly skilled swing musicians, which may explain why their transition into free jazz remains listenable. The title track, nearly half an hour in length, has a dozen movements that could serve as a miniature Sun Ra biography. It begins with a spooky buzzing that's reminiscent of 1950s alien arrival films. A lattice of stratospheric flutes simulate the wonderment of a new civilization. One can also visualize the growth of modern industry, the vertigo of skyscrapers, the joy of walking your pet in the park, and the madness of traffic jams, all within the rising and falling of the instrumental moods.
"The Shadow World" is a night full of travel where the city never sleeps. Drums pop like oil in a skillet, horns circle like birds around a building. "The Abstract Eye", appearing in two takes, features wonderfully expressive bowed bass that sounds not unlike the opening and closing of twenty-foot zippers.
THE FALLOUT: Barely known outside of hardcore jazz fans, The Magic City sold poorly, although massive sales were not the point of Sun Ra's musical experiments at all. Still, many of his contemporaries borrowed his ideas, both musically (Art Ensemble of Chicago, Funkadelic) and presentationally (Earth, Wind & Fire), and received fat accolades while Ra remained a fringe artist nearly until his death in 1993.
Ironically for such an historically hard-to-find album, The Magic City is now available worldwide from such retailers as Amazon, and you can hear tracks below:
A landmark of improvisational music, The Magic City helped redirect the limits of modern composition and still sounds contemporary, forty years after its recording.
NEXT WEEK: Tackhead reformulates and gets the Axe.