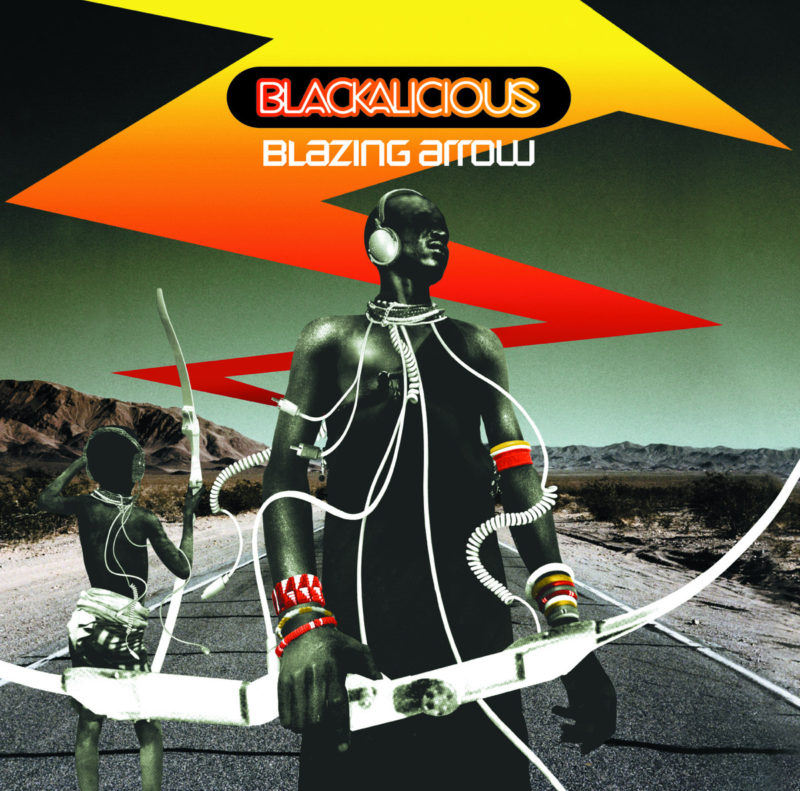 Fire at will.
Purchase this album: Amazon
THE SCENE: Ever had really awesome French toast? Crunchy yet supple slabs of thick golden brown with steam rising between its buttery layers? So yummy you even bragged to your friends about your unexpected good fortune? French toast is so simple to make yet difficult to make great.
Bay Area natives Blackalicious are the musical equivalent of great French toast. After turning heads in 2000 with their independently released Nia they vaulted to a major label for their next album, the tasty Blazing Arrow.
Filled to the brim with hard hipster soul, producer Chief Xcel tastefully laced the tracks with the shocking sounds of real instruments. Emcee Gift of Gab's flow is thick like maple syrup yet speedy like a NASCAR driver, easily twice as fast as the usual rapper with four times the internal rhymes.
He bobs and weaves like a sub-atomic helicopter in "Paragraph President" and rides the waves of the lazy seafaring "Blazing Arrow". Consistently focused on spirituality and community he gets all Armageddoned-out on the mock-classical "Sky is Falling" and promotes the power of positive thinking in the soothing, organ-sprinkled "Green Light: Now Begin" (Hell of intelligent diligent heaven-sent benevolent relevant medicine/Poetry pedestrian peddelin' mad adrenaline to lyrical gentlemen).
Blackalicious also share quality time with ghostly remains of Gil-Scott Heron in the luminous "First in Flight", and rock with some of Jurassic 5 over the beef-jerky dry piano of "4000 Miles" as well as the "I can't believe he rapped the periodic table of elements" stunt rap of "Chemical Calisthenics":
C-A-O-H-2 wine water solution of calcium hydroxide
Slobbin it, C-A-O lime will make bleach powder
Galvanic metal beats stomp out louder
Dried ice, C-0 squared refrigerant
N-O-2 makes you laugh, it's laughing gas used by the dentists
I nearly added acid glue, I'm like oil of a toil, the king of chemicals
And the G heat gas waved all your mats
Chemical change, ice point, melt all your raps
Atomic weight, hold shocks, when you call
Refillable gas keep going way beyond
Biotch I'm only ill with buzzin, feel the ambiance
A diabetic process outta calm your ass
After I warm your ass, I'll give sodium, silicate N-O-2-S-1-O-3, a water glass
Borax flexure full of brimstone sulfur
Boraxic acid, hip-hop preserver
C-O-2 could never put away the fire
Style aroma is scientific; the lyrical fuse would be connected
To teach you chemical calisthenics
Kids, don't try this rap without adult supervision. You could hurt yourself. Ever had a tongue cramp? Ouch.
THE FALLOUT: With a fistful of glowing reviews but a handful of sales, Blazing Arrow also suffered from the shuttering of its record label, a move which also doomed Common's Electric Circus. Four years later Blackalicious released their follow-up The Craft. And once again, on an independent label. And so it goes.
Blazing Arrow is available from Amazon and you can sample tracks here:
Tasty and comforting, Blazing Arrow makes for essential nourishment.
See you next Wednesday.
NEXT WEEK: In honor of Cinco De Mayo, listen to an unsung Latino departure album from Los Lobos.