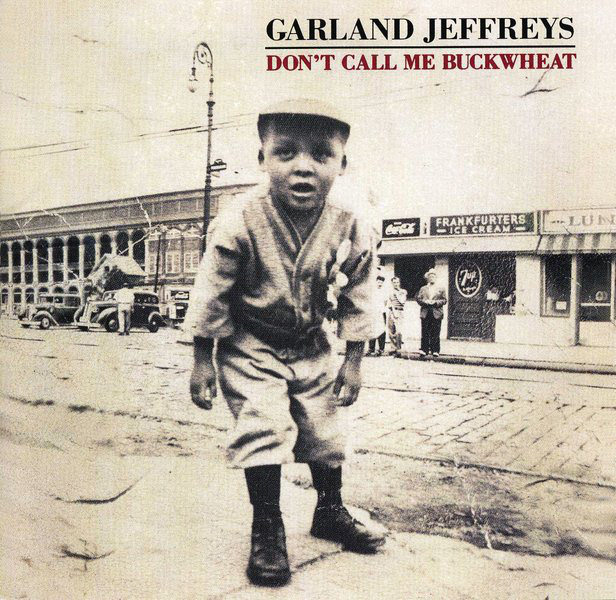 The Un-tragic Mulatto.
Purchase this album: Amazon
THE SCENE: Every black man I know has been hassled by a racist cop. And you know what? We have it easy. Imagine living in America before civil rights legislation, when "colored-only" water fountains were plentiful and legal. Now imagine growing up in the 1950s as the child of black, white and Puerto Rican ancestry.
That is the reality of Brooklyn singer-songwriter Garland Jeffreys, and two decades into his recording career he delivered a concept album about surviving racial intolerance, 1992's vulnerable Don't Call Me Buckwheat.
Remixing rock, reggae and R&B as rhythms from related recipes, he recants tales of his life and the role racism has rendered. As a boy the light-skinned blue-eyed Jeffreys occasionally passed for white (the flamenco-styled "Spanish Blood) when he wasn't being stared at like a carnival attraction (in the cocktail jazz of "Racial Repertoire").
He fully understands the loneliness of being a black man in a white man's arena (the skanked-up "Color Line") and the tools one can use to forget the injustice (the skanked-down "Bottle of Love").
Yet he never matches hate with hate. He bravely reveals his issues with bigotry on the both the black side (in the ripping "I Was Afraid Of Malcolm") and the white side (in the Southern gospel "Don't Call Me Buckwheat"):
Don't call me buckwheat
Don't call me eightball
Don't call me jig jig jig…Watch that word
Don't call me Sambo
'Cause it hurts
And that ain't nice
And it sticks like white on rice
Sadly, this song was inspired by a trip he took to Shea Stadium. In the 1990s.
THE FALLOUT: Buckwheat sold nearly half a million copies in Europe, where he's continually had strong success. Meanwhile back in the U.S.A. his domestic label gave him the moist handshake of indifference and abandoned the album, despite unanimous critical acclaim.
Don't Call Me Buckwheat is available from Amazon
 and you can sample tracks here:
Don't Call Me Buckwheat dramatically draws the humane conclusion that despite the machinations of racism all people are, and will continue to be, equal. And so it shall be.
See you next Wednesday.
NEXT WEEK: Society, decoded.