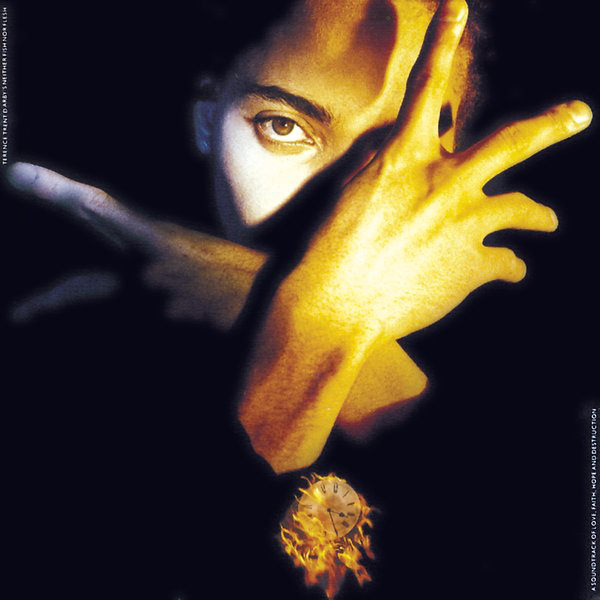 Let's make a concept album, where the concept is me.
Purchase this album: Amazon
THE SCENE: In 1988 Terence Trent D'Arby rocketed from nowhere to become the artist of the moment. His debut album Introducing The Hardline sold millions of records on both sides of the Atlantic and his single "Wishing Well" went to number one in England and America. His musical stock-in-trade was Sam Cooke-styled R&B rave-ups, and in classic R&B mode he mostly sang about women. He was also quite cocky about his musical talents and gave great interviews about his utter, utter brilliance.
But that same year he met his idol Brian Wilson and sang on Wilson's first solo album. Brian Wilson hadn't created a complete album since 1966 when he composed The Beach Boys' Pet Sounds, the original rock'n'roll departure album. While working with a man who represented the zenith of music freedom, D'Arby must have sensed that this was time to ask, no, demand complete artist control for his next album. And so he set off to create (deep breath now) Terence Trent D'Arby's Neither Fish Nor Flesh: A Soundtrack of Love, Faith, Hope & Destruction.
T.T.D.N.F.N.F:A.S.O.L.F.H & D. represents D'Arby's state of mind circa 1989. "I'm concerned with the fate of mankind" he seemed to say, "as well as maintaining my stature as King Of All Macks". And as the sole composer, arranger, producer and primary musician, it's truly his world.
"Declaration: Neither Fish Nor Flesh" begins with silence, lots of it. A good half minute passes before any sound is audible and then it's a slow bloom of liquid guitar fuzz and tuned feedback while D'Arby low-talks about being neither fish nor flesh. In "I Have Faith In These Desolate Times" he shares his world optimism over nothing but the delicate plinking of a koto water harp. It has the lilting spirit of a unicorn gallivanting through the forest, at least until the end where it completely turns into a "James Brown meets Foetus" groove.
D'Arby's precision arrangement skills are evident in the next piece, "It Feels So Good To Love Someone Like You". It's a masterwork of composition as he creates a dreamy exotic island from flutes, sitar drones, waterfall sounds and whale samples, and he powers down his usual hard-charging vocal attack into "caress" mode. It's the song by which to slowly eat honeyed fruit off your lover's hand.
Quite unexpectedly D'Arby pulls off a quintessentially contemporary sounding pop song. "Billy Don't Fall" is the hit single that never was, perhaps because it's a pop tune about AIDS and gay tolerance, recorded back in 1989 when AIDS was considered a karmic death sentence:
Billy was a young boy
Who's fate did decree
That he would like only other boys
So being with a boy came to him naturally
Billy was a green boy
His thoughts so naive
He wondered why he was so victimised
And his fear brought him close to me suddenly
But
Billy my friend
Don't fall in love with me
I'm not that kind of guy
But I'll stand by your side
If you need me to be
The album's centerpiece is "This Side of Love", a bass-free classic soul carnival ride with train-track tension that gives the feeling it could fall apart any moment, much like love itself! (Man he's good). Although this train is essentially just guitar and drums, it features cameo appearances by nearly every other instrument in existence, as if they were standing outside the gate and waving at the song as it passed by. Lyrically he's wondering how he even got into this situation:
We're on a roundabout whirl of scorn
The demons are smiling and the angels snoring
I feel like a stepchild Caesar that's been
Beaten and bruised to please her
Wearing a rusted ring of thorns
What have I done to piss the Gods off
(To end up on) This side of Love?

The Alice-in-Funkyland style crescendos with "Roly Poly". Double-time drums run backward throughout the song, which combine with shimmering strings and wordless background crooning to maintain an intoxicating sense of dizziness. D'Arby layers on the vocals till it reaches madness level, and then he keeps adding other rewind sounds until you just submit to its power. He also beats on a cardboard box, just because he can.
Neither Fish Nor Flesh is exceptionally well-arranged and mixed, and does provide proof that TTD was nearly as talented as he had been claiming.
THE FALLOUT: His egotistical pushiness had already made him enemies at his record label, who didn't hear a hit single and withdrew nearly all promotional support. D'Arby also fought to have Fish released during the competitive Christmas season, which all but assured the album would hit the stores dead on arrival. As a result he didn't release a follow-up album for four years.
Neither Fish Nor Flesh is available from Amazon and you can sample tracks here:
Self-indulgence has rarely sounded so charming. See you next Wednesday.
NEXT WEEK: A.R. Kane brings the ruckus into shoegazer culture.