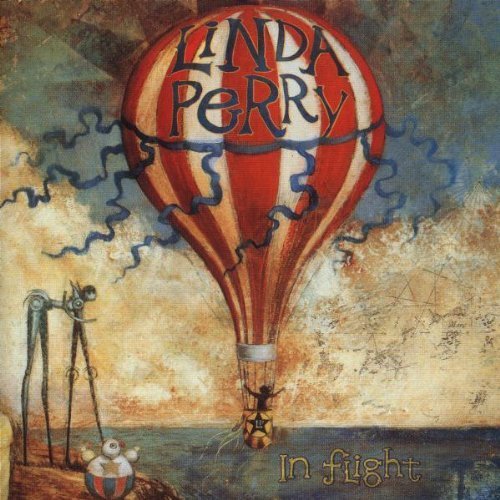 Between Blonde and Pink.
Purchase this album: Amazon
THE SCENE: In 1995, rock band 4 Non Blondes had sold 6 million copies of their debut album Bigger, Better, Faster, More!, mostly on the strength of their unrestrained hit single "What's Up?". But lead vocalist and songwriter Linda Perry couldn't stand singing it anymore, nor could she deal with Interscope Records' constant pressure to produce another "What's Up?", as that song didn't represent her current musical identity. So she quit the band to create a confessional song cycle that was a complete about-face from her last recording, resulting in the austere and elegant In Flight.
Where the brash energy of Bigger, Better, sounds like it was recorded during the half-time show of a bullfight, In Flight emotes the quiet stark beauty of a votive candle's flickering shadow. It slowly but confidently tells you its fears and mistakes with the deliberate stillness of a truth-telling session.
Perry's massive voice is still the sun by which all instrumentation orbits around, but she's learned to tailor its heat to the tone of the track. It moans over the shadowy desert of "In My Dreams", and drones along the decaying essence of "Life in a Bottle":
Stoned and demented
Walking through the walls
When I banged my head I slowly fell
Sad but delighted
Swimming in my well
I guess I'm going straight to Hell
The understated production evokes a ever-constant dream state, where the songs feel both weightless and heavy. The faerie garden of "Taken" is dappled with dew-glistened violin, and the swirly ascension of "In Flight" is grounded by a Stevie Wonder-esque gospel ballast. (So I flew unto a tree/ Gather inspiration/ Happy to meet/ All the other birds).
Not that ALL the songs are so serious; Perry does eke out a marvelously tap-danceable tinkly reminiscence of her childhood called "Fruitloop Daydream" that really should have been a single:
This ain't no walk in the park
But I call it my home
And you're all invited
Waking up in the dark
Knowing I'm not alone
It's all so familiar
The drag queens
The speed freaks
All the homo boys they touch me baby
Tainted love
The park on a Sunday afternoon
Ah, childhood.
THE FALLOUT: Interscope Records was unhappy with Perry leaving the gravy train of 4 Non-Blondes only to replace it with odes to queer love and underage drug use, so they released In Flight with no promotion. It sold a piddly 18,000 copies and was promptly deleted, leading to her 1999 release from Interscope. This was the last the public heard from her until 2001, when scowly meta-wigger Pink demanded she work with Perry, resulting in her co-writing and producing Pink's 5-million selling M!ssunderstood. In 2005, after contributing to Interscope artist Gwen Stefani's triple platinum album Love. Angel. Music. Baby., Interscope gave Perry the album masters to In Flight as a token of appreciation.
I'll say that again: Interscope, a label known for combatively managing its bottom line against the wishes of its artists, gave its own property away to an artist because they felt it was the right thing to do. FOR FREE.
In Flight is once again available from Amazon (with a new cover) and you can sample tracks here:
In Flight is the diary of the only Brazilian-Portuguese-American dyke rock star, and how she made her specific traumas universal.
See you next Wednesday.
NEXT WEEK: The puzzle of Georgia Anne Muldrow.