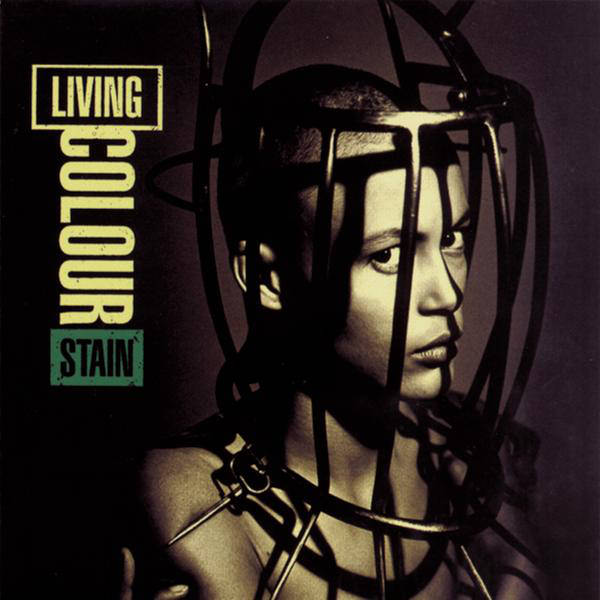 Friendly as a backhand.
Purchase this album: Amazon
THE SCENE: In 1992 Living Colour was surfing an unprecented wave as "America's Favorite All-Black Rock Band™". Their melding of social positivity and hard rock, combined with catchy lyrics, world-class musicianship and colourful imagery had led to gold records, hit singles, Grammy awards, sold-out tours, commercial fame and musical credibility. And then…the bass player quit. The next year brought a new bassist, a new vision and new dark album, the nihilistic Stain.
Unlike the hopefulness of their last two releases, Stain defines a unsettling, friendless landscape without happy endings. Even the song titles burn with desolation: "Never Satisfied", "Mind Your Own Business", "Nothingness". Always a sample-happy band, Living Colour now populated their metallic songs with bursts of atonal squawks and random found sounds, much like how crazy street people yell things at you right before they nod out from narcotics.
The characters that singer Corey Glover inhabits in these songs aren't any more balanced, suffering from sexual discrimination and bipolar disorders ("Bi"), police brutality, ("This Little Pig") and nervous exhaustion ("Go Away"). Racism haunts the victim of the combative "Auslander", as he shrieks a duet against the assaultive melodies. The titular "Postman" is one step from going postal himself, muttering creepy revenge strategies:
Day in, day out, day in, day out
Chaos and carnage around me
Well I hear their shouts and cries
Well I laugh at the gut when they try to surround me
They won't take me alive
Even the instrumentals get under one's skin. "WTFF" is a brilliant glittery slice of claustrophobic hip-hop laced with fear, while "Hemp" is a contemplative eulogy to a dead mentor, whose graveled speaking voice wafts through the mix.
It's ironic that an album about finality should result from what was essentially a new band.
THE FALLOUT: A caustic grunge song cycle was not what the world expected from Living Colour, as "America's Favorite All-Black Rock Band™" had suddenly transformed into "Four Angry Black Guys". No hit single, no gold album, no Grammy award. Sadly it also led to no Living Colour, as they disbanded due to creative differences.
Stain is out of print in America but you can find it supercheap on Amazon, and you can sample tracks here:
Stain is sound of innocence lost and paranoia found, but it's lotsa fun.
See you next Wednesday.
NEXT WEEK: A repost from the hardest working Santa in showbiz.