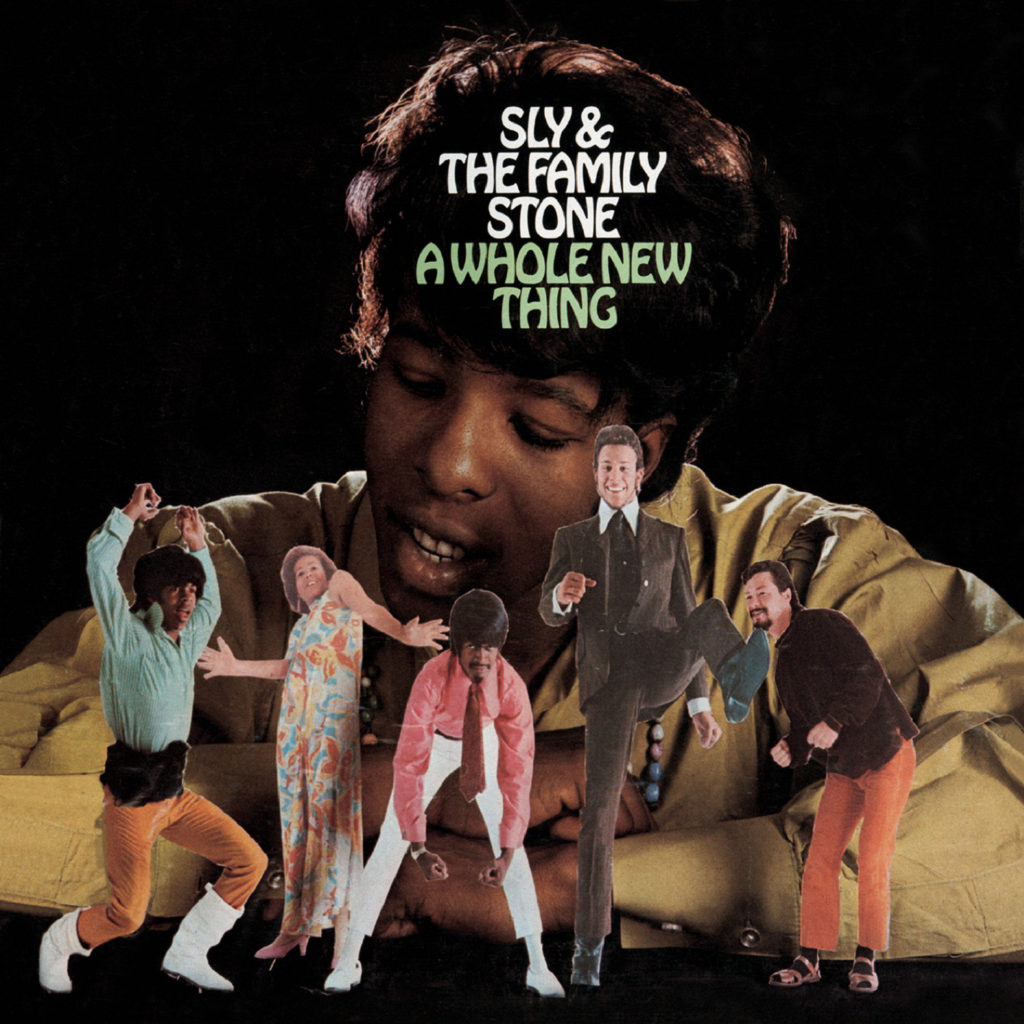 Birth of a one rhythm nation, under a groove.
Purchase this album: Amazon
THE SCENE: In 1967, the Summer of Love, San Francisco disk jockey Sylvester Stewart turned his utopian vision of equality into a pioneering hybrid of hippie rock and hard-charging soul, culminating in Sly & The Family Stone's debut release A Whole New Thing.
The first prominent multi-ethnic and multi-gendered rock group, Sly & the Family Stone blurred racial and genre lines with a jubilant sound filled with sharp political insights, uplifting messages, and a kick-ass backbeat. It was so unified and original that many folks didn't know how to respond, hence this is his only album from the '60s without any hit songs.
Well, kinda. The funky psychedelia of "Trip To Your Heart" features the main sample from L.L. Cool J's "Mama Say Knock You Out". But "Trip" is fantastically more ornate, with acid-trip vocals, teeter-tottering horns, free-form intro and Larry Graham's near-inhuman bass playing.
"Underdog" universally champions the struggle to thrive in the face of adversity (much like the cartoon superhero):
I know how it feels to get demoted
When it comes time you got promoted
But you might be movin' up too fast
(Yeah, yeah)
If you ever loved somebody of a different set
I bet the set didn't let you forget
That it just don't go like that
(Yeah, yeah)
I know how it feels
For people to stop, turn around and stare
So go right, don't rate me
I don't mind
I'm the underdog
Blessed with phenomenally gifted singers and musicians, the band tears through the jazzy waterfall of notes in "Advice" and the chorale of nonsense syllables in "Run, Run, Run" with singular ease. Sly's voice itself is an amazing instrument, often sexy and scary within the same sentence, declarative but personal.
Sly also flexes his considerable production muscles during the slowed-down ending of the brassy "I Cannot Make It", and the echoed call-and-response of the proto-Portishead "That Kind of Person".
Alas, being the musical midpoint between The Temptations and The Grateful Dead was not an immediate selling point.
THE FALLOUT: It was not a big seller but it was taken quite seriously by his musical peers, as they considered him to be one of the few geniuses in their midst. Sly & The Family Stone's next release was 1968's Dance to the Music, which started them on a six-year journey of having REALLY big hit songs.
A Whole New Thing is available from Amazon and you can sample tracks here:
Ignored mostly due to the greatness of the following albums, A Whole New Thing is a chunky but funky appetizer to the banquet of Sly Stone.
See you next Wednesday.
NEXT WEEK: Barry Adamson confronts the Negro inside him.